YSK
YSK-Bare Frame Style Full Automatic High Speed Slitting And Rewinding Machine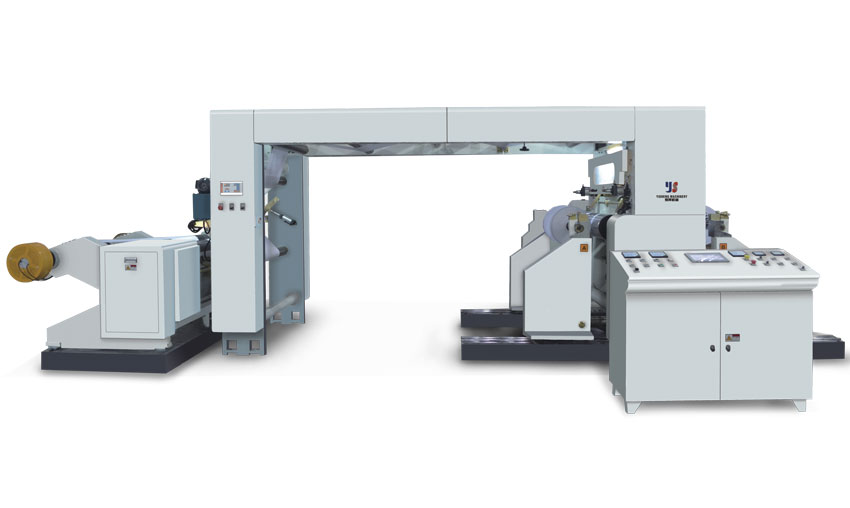 This machine is used for slitting and rewinding various large rolling materials such as paper, (kraft paper, cellophane paper, bill paper), double-face adhesive tape, PVC, plastic material, etc.。
1.This machine use PLC controller, automatic taper tension, central surface reeling.
2.Frequency converter three motor servo control, keeping speedup and stable operation. It has the functions of automatic metering, automatic alarm, etc.
3.With A, B inflatable shaft structures for rewinding; Finished products are automatic loading and unloading. It adopts photoelectric automatic error correction adjustment system for unwinding,anomalistic materials will be easy slit.
4.Equipped with automatic waste paper inhaling blowing device. Automatic material loading by hydraulic system for unwinding.
| | | | | |
| --- | --- | --- | --- | --- |
| 型号 | Model | YSK-1300 | YSK-1600 | YSK-1800 |
| 放卷最大宽度 | Max. Width of unwinding | 1300mm | 1600mm | 1800mm |
| 放卷最大直径 | Max. Diameter of unwinding | ¢1600mm | ¢1600mm | ¢1600mm |
| 分切最小宽度 | Min. Width of slitting | 50mm(up to materials) | 50mm(up to materials) | 50mm(up to materials) |
| 收卷最大直径 | Max. Diameter of rewinding | ¢1600mm | ¢1600mm | ¢1600mm |
| 分切速度 | Speed | ≤600m/min | ≤600m/min | ≤600m/min |
| 整机功率 | Total power | 50kw | 50kw | 50kw |
| 适用电源 | Power supply | 380V/50hz | 380V/50hz | 380V/50hz |
| 机器重量 | Weight | 10000kg | 12000kg | 13000kg |
| 外形尺寸 | Overall dimension (LxWxH) | 10000x3500x3200(mm) | 10000x3800x3200(mm) | 10000x4100x3200(mm) |